[Membership Benefits | Newsletters Benefits | Consumer Benefits | Website Benefits]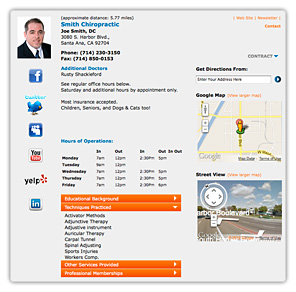 Every month, more than 18,000 searches for doctors of chiropractic are made on ChiroWeb's ChiroLocator. As more and more people use the Internet (almost 60% of all US adults are on the Web) they will turn to ChiroWeb to learn about chiropractic and locate a doctor of chiropractic in their area.
Click here to see how your practice is currently displayed on the ChiroLocator. Then enter your zip code and click on the corresponding button.
Click Here to Enter the Chiropractic Website Adminstrator.
Learn more about the many benefits of the membership: