[ Membership Benefits | Locator Benefits | Consumer Benefits | Website Benefits ]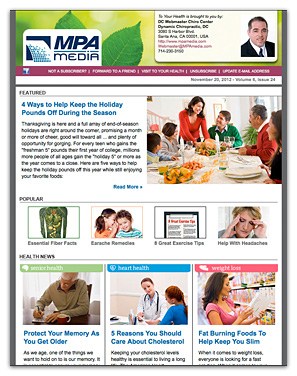 You know the benefits of well informed patients.
They recognize the value of chiropractic and keep their appointments,
They understand wellness and have made wellness living a part of their lives.
They talk about you and the benefits of chiropractic to their friends, family and co-workers.
Unfortunately, you don't always have the time or opportunity to teach your patients all they should know. Your To Your Health patient e-mail newsletter will do it for you.
Every two weeks, your patient e-mail newsletter will be sent to your patients with 3-4 short articles about the benefits of chiropractic and wellness. Each article is specifically written for chiropractic patients and is fully referenced to the specific research supporting it. Once the sending process is completed, you will receive an e-mail report informing you of the number sent.
As you can see by the example above, your patient e-mail newsletter begins with your photograph (for most non-AOL patients) and information about your practice. This constantly reminds your patients about you and the benefits you offer through chiropractic.
In addition, you can send your newsletter to an unlimited number of patient and "potential patients". Some DCs are already sending it to hundreds of people in their community regardless of whether they are current patients. They just put the subscription sheet out in public places and let people subscribe to this fantastic free service.
And while e-mail newsletters are extremely cost efficient, the best reason to send e-mail newsletter is their portability. As people receive you newsletter, they can easily forward them to others.
Click Here to Enter the Chiropractic Website Administrator.
Click Here to View Current On-Line TYH Newsletter.
Learn more about the many benefits of the membership: