[ Membership Benefits | Locator Benefits | Newsletters Benefits | Consumer Benefits ]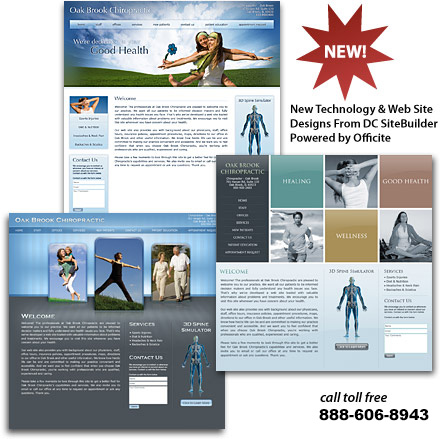 About DC SiteBuilder
Dynamic Chiropractic presents DC SiteBuilder powered by Officite
Nationally recognized medical web design company, Officite, has teamed with the leading and highly regarded chiropractic news source, Dynamic Chiropractic, to deliver doctors of chiropractic a state-of-the-art portal for building, optimizing and customizing their practice websites. With DC SiteBuilder, chiropractors now have access to performance-driven websites that are easy to set-up, easy to maintain and, most importantly, effective at attracting new patients.
Managing your website has never been so easy. Whether you want to add photos, revise content or track your appointment requests, DC SiteBuilder gives you full access to site management functions 24/7. And, if you ever need assistance, Officite's support staff is ready and waiting to help you during regular business hours.
If you want to compete in today's marketplace, you'll want a website that produces results - a new patient machine. Let DC SiteBuilder from Officite and Dynamic Chiropractor, distinguished experts in the chiropractic market, provide the tools you need to build an effective website and drive new patients to your practice.
Click here to learn more about Website Services From DC SiteBuilder powered by Officite
DC SiteBuilder Website Features
New Technology and Designs from DC SiteBuilder Powered by Officite
Having constructed literally thousands of websites for medical practices, Officite knows how to design high-performing websites that drive new traffic to your practice. With Officite's secure turnkey editing system and easy dashboard interface, we get our clients up and running with their new website in a matter of hours, not days. Each website is launched with a unique domain name, our powerful site editing technology, the exclusivity of a site design in the chiropractor's area, and baseline messaging, including welcome statements, staff bios, service descriptions, office details and contact information. Officite's team of content editors, writers, graphic designers and web programmers can help our clients tailor a site to reflect the needs, values and mission of each practice we service.
DC SiteBuilder Websites Feature:
Choice from hundreds of professional, attention-getting designs, or we'll completely customize a design for a single practice.
Secure, turnkey back-end management system
Content templates with baseline messaging that each client can use to customize their own web content
Easy site-editing system, Site Editor, for quick website management and updating.
Extensive patient education libraries and online video capabilities
Website Hosting, E-mail, basic content optimization, clean site navigation, external links, patient forms, graphics, blogs, maps, photos, video, audio, online appointment requesting
To Your Health E-Newsletter
Chiro Locator Listing
Support
Additional Site Enhancing Features:
Pay-Per-Click Advertising
Search Engine Optimization
Social Networking
Local Maps Optimization
Blog Managment
We Make it Easy
Officite streamlines the process for managing your new chiropractic website through the DC Portal, a proprietary internal client management system and website building tool. This turnkey back-end management system makes it easy for a practice to access all essential website tools and features, including email, website tracking and content editing with a single login- a technology that only DC SiteBuilder can provide. Each section of the DC Portal features important information and convenient access to:
From DC Portal you can:
Access the Site Editor to change web page content, both words and images.
Check your email
Review the latest industry news
Track appointment requests
View web statistics that show you how well your website is performing
Monitor outcomes of email marketing and Adwords campaigns
Site Editor
Officite's one-of-a-kind site editing technology is a simple "point and click" interface for editing content and modifying information. Designed as a site management tool that enables chiropractors to make changes to their website content on the fly, the Site Editor's ease and usability are unparalleled. The Site Editor is quick and simple to use- just login to DC Portal- then click and edit. Most importantly, it gives each practice control over its website content at all times.
With Site Editor, a chiropractor can:
Modify and add website content
Add photos of the practice's office(s) and professionals or use professional images from our stock photography library
Keep contact and appointment information up-to-date
Tailor educational information in their patient education library
Incorporate education animations and videos
Add links to other websites
Create completely new pages
Learn more about what a professional, performance-driven website can do for your practice by clicking here.
Learn more about the many benefits of the membership: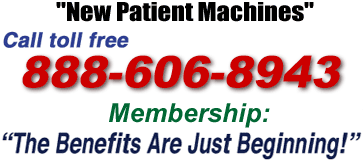 if ($google_skyscraper_slot=="none"){ }elseif($google_skyscraper_slot){ ?> }else{ ?> } ?>