To Your Health
March, 2007 (Vol. 01, Issue 03)
More than ever, medical professionals are encouraging their patients to seek massage therapy to help manage certain medical conditions and to maintain good health. Seventy percent of massage therapists regularly receive referrals from health care professionals, at an average of two referrals per month.
Data from the most recent American Massage Therapy Association Consumer Survey shows that 9 million more people discussed massage therapy with their doctor or health care provider in 2006 than they did five years ago. Among those patients who discussed massage with their provider, 59 percent said their physician recommended they seek massage therapy. Forty-seven percent of physical therapists and 48 percent of chiropractors also recommended massage when patients inquired.
Of course, a mechanical substitute can never reproduce the exact feeling of human touch, but current technology comes very close. Over time, designers have more closely approximated the necessary factors in a massage chair to provide its user with some measure of relief from back pain and neck pain. This breakthrough technology is called robotic massage and can be found in many products available for you to buy and use in the privacy of your own home. I find it much easier to adjust a patient who has been relaxing in a robotic massage chair on a regular basis.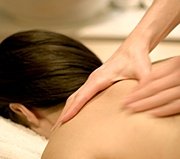 While current technology canít reproduce the exact feeling of human touch, it comes very close and can be enjoyed in the comfort of your own home. As a practicing chiropractor for 35 years, I have often recommended that my patients invest in a robotic massage chair for their home or office. Robotic chairs look similar to basic home recliners, but carry advanced internal motors that simulate human touch to provide a rewarding and beneficial massage each time you use them. The technology today is much more advanced than it was in the days of rollers and vibration. Today's chairs are engineered and sophisticated. Regular (even daily) massage can strengthen and tone the entire body, helping to prevent unnecessary strains and injuries that might otherwise occur due to excess tension. A single massage may be a soothing and delightful experience, but it's the cumulative effects of regular massage that offer the most benefit. Owning your own robotic massage chair is a convenient and cost-effective way to experience the lifelong health benefits of daily massage.
When looking to purchase a robotic massage chair, you want to spend time in the marketplace testing the chair you want to buy. Personally sit in the chair and test it. Any good back care or technology store will have many different styles of robotic massage chairs for you to test on the showroom floor. Obviously the more bells and whistles a chair offers to you in robotic massage features, the higher the retail price point. However, I believe the usage rate per massage in a robotic massage chair will greatly outweigh the costs of a personal masseuse in the long term. Experience regular robotic massage and see for yourself how this exciting technology can benefit both your body and your soul.