Dietary supplement use has become widespread across the country. According to the Natural Marketing Institute (NMI), 65 percent of the general population polled in 2011 reported using a supplement in the previous 30 days. People who understand the benefits of chiropractic are generally more health conscious, so it is likely that the percentage of your patients who are using supplements may be even higher than 65 percent. With this growing consumer demand and patient need, you have an opportunity to ensure your patients access to high-quality products while generating additional revenue for your practice.
While many doctors choose to have a dispensary in their office, others may express some of the following common concerns. These are the reasons many chiropractors choose to offer an "online dispensary," an easy way for patients to order products through your website.
Space and Overhead Solutions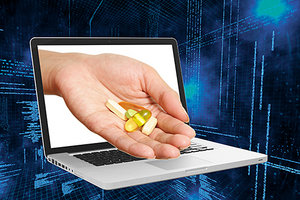 Many doctors don't have enough physical space to keep dietary supplements within their practice walls. With an online dispensary, you can have every product available to your patients without limitation. You also don't have to worry about having $7,500 of supplements on your shelves that could expire and have to be thrown away. When your patients order online, they will always be getting the freshest product, and you won't have to worry about if you will be recouping the costs of stocking the product on your shelves. This will free up a lot of space, if not an entire room in your office that can now be used to create consistent revenue as a treatment space.
In addition to the cost of the supplements, there is a fairly significantly overhead cost to maintain an in-office dispensary. Costs that can add up quickly include the employee cost to manage inventory and place orders, shipping costs, and the potential cost of employee theft.
By comparison, an online dispensary generally requires no up-front cost, and the only ongoing cost is generally a portion of the sale price paid to the company managing your online dispensary. This may decrease the margin (percentage profit) that you make on each product sold, but it can be cost saving, as overhead cost to maintain an in-office dispensary can average 20-30 percent of the sale price.
Ease of Access
When supplements are available online, your patients will have fewer barriers to actually purchasing the product. Many people don't want to make that extra trip to your office just to refill their multivitamins. They may wait several weeks until their next appointment and not receive the benefit of taking the recommended supplements. With Internet access to your online dispensary, they can order from the comfort of their pajamas, and compliance with your recommendations may go up significantly. After placing their order, patients wait 2-3 days and a package shows up on their doorstep. All you had to do was make the recommendation and provide an option within your dispensary.
From time to time, patients do leave your consistent chiropractic care for a variety of reasons, with some even moving across the country. If they were purchasing from your online dispensary prior to deceasing or discontinuing their care, they will likely continue to purchase. This creates a residual income that, as patient numbers increase, can actually become quite significant.
A Reason to Visit Your Website
Having your supplement dispensary online creates an excellent incentive for patients to visit your website. This is great for many reasons, one of the best being the opportunity to provide education of your choosing; education you may not have time for during a normal office visit. The additional benefit to increased traffic to your website is that it could start to show up more in web searches, thus helping some new patients find you.
Ensuring Quality & Effectiveness
Whether you realize it or not, your patients view you as an expert in the natural health care field. They have an expectation that when they ask about options for supplement use, you are able to recommend high-quality, effective options for them to consider. Many doctors choose not to carry supplements in their office and instead refer patients to the drugstore or big-box store down the street. But with ongoing issues of supplement contamination and adulteration, how can you be sure that the option your patient chooses is safe and effective?
When sending them to a local store, you ultimately can't ensure they choose an effective product. By choosing to have an online supplement dispensary provided through a high-quality partner, you can easily provide your patients with a selection of supplements you have hand-chosen for quality and effectiveness.
The Revenue Benefit
Another downside to sending your patients down the street to get their supplements is the potential revenue loss. Your patients are going to spend money on supplements regardless of whether you are selling them or not; why not give them an option you have vetted and can stand behind? With shrinking reimbursement rates, supplement revenue can provide a reliable, separate income stream that requires little work.
If you have concerns with selling supplements because you do not want to profit off products you recommend, this can also be overcome with an online dispensary. Many online dispensary tools offer flexibility in pricing so you can offer patients products at your cost, or you can stay out of the financial transaction altogether and just make the connection for your patients. You are no longer profiting from your recommendations, but still providing top-notch quality for the lowest price possible.
Implementing an online dispensary is much easier than it sounds. Ultimately, you must find a partner dietary supplement company or technology partner you trust to make timely shipments and track your patients' orders appropriately. If you use more than one product line, an important consideration would be finding a partner that can fulfill patient orders consisting of multiple separate brands.
Once you have identified the correct partner for your new online dispensary, it can be as easy as adding a link or banner to your existing website that will direct your patients to where they can order. Online dispensaries are typically password protected, so once you provide a password to your patients, they will be able to set up an account and begin ordering from the custom combination of products you feel fits their needs.
The task of starting an online dispensary can seem fairly daunting. However, it is actually quite straightforward and easy to implement, as long as you choose the correct partner. Once established, the dispensary can provide amazing benefits to your patients and your practice, driving growth by providing an efficient process to give your patients access to quality dietary supplements.
---
Dr. Christopher Oswald,a graduate of Northwestern Health Sciences University, is a chiropractor and certified nutrition specialist. He practices in Wisconsin, focusing on whole-body care for those suffering from head and neck pain. Dr. Oswald is an advisory board member of Nordic Naturals and the National Association of Nutrition Professionals. He can be reached at .