Flexion distraction is a commonly used form of chiropractic care. In a recent study, 235 patients received chiropractic care or participated in an exercise program, and were followed for one year via mailed questionnaires to assess levels of pain and dysfunction.
Subjects had a decrease in pain and disability after intervention, regardless of which group they were in.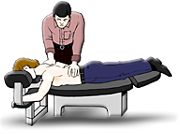 However, one year later, subjects who received chiropractic care had significantly lower pain scores than subjects who followed the exercise program.
For more information on the benefits of chiropractic, visit www.chiroweb.com/find.
Resource:
Cambron JA, Gudavalli MR, Hedeker D, McGregor M, Jedlicka J, Keenum M, et al. One-year follow-up of a randomized clinical trial comparing flexion distraction with an exercise program for chronic low-back pain. Journal of Alternative and Complementary Medicine, September 2006;12(7):659-68.