The use of complementary and alternative medicine (CAM) among consumers has been steadily rising for the last few years, and new research presented at the annual meeting of the American Council on Consumer Interests shows that about 70 percent of adults over the age of 50 use some kind of alternative medicine, including chiropractic, acupuncture and herbal medicine.
Researchers from Ohio State University used data from the 2000 Health and Retirement Survey conducted by the University of Michigan in which 848 people responded to questions about their use of six types of alternative medicine: chiropractic, acupuncture, massage therapy, breathing exercises, herbal medicine and meditation.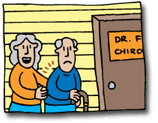 The study found that chiropractic was the most frequently used form of CAM, as indicated by 43 percent of respondents. The research also discovered that those who indicated they were in "poor health" were more likely to use alternative medicine. Among the "poor health" population, 65 percent said they used some form of alternative medicine they considered "preventative or curative." Additionally, 63 percent of those who reported feeling unsatisfied with their health care tried preventive or curative forms of CAM.
This research emphasizes the continued growth of CAM therapies, especially chiropractic care, among older adults. So, listen to your elders and make an appointment to see your chiropractor today. Chiropractic care can help relieve back pain, chronic headache, allergies, and a host of other debilitating ailments.
To learn more about the efficacy of chiropractic, visit www.chiropracticresearchreview.com.
Reference:
About 70 percent of older adults use alternative medicine. Newswise. April 6, 2005.