Nerve Mobilization with Doug Alexander
---
DVD Review by Steven Lavitan, DC, LAc
if (isset($google_rectangle_slot)){ ?> }else{ ?> } ?>
| | |
| --- | --- |
| Title: | Nerve Mobilization with Doug Alexander |
| Author: | Doug Alexander |
| Part #: | CD-5 |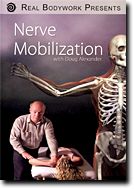 This DVD focuses on the medial, radial and ulnar nerves, so its title can seem a bit misleading. Many years ago, Dr. Joseph Janse, at an anatomy class at the National College of Chiropractic, reviewed the concept of nerve tracing. Later on, Dr. Raymond Nimmo spoke about it. Active release technique (ART) is concerned with the concept of traction neurodesis. Drs. Cyriax, Hammer, and anyone with an interest in soft-tissue work are concerned with it. Nerve mobilization was developed in a parallel universe.
Doug Alexander, a massage therapist, has developed one of the most sophisticated DVDs imaginable, and his graphics are fabulous. His series of maneuvers to isolate where the nerve is impinged is methodical, to the point of being brilliant. For the clinician wishing to be thorough and exceedingly gentle, this is a great way to go. It is much less expensive than going to an ART or Grafton class, and is a great way to get your feet wet before you make those plunges.
A series of maneuvers that test or challenge each of the impinged nerves is the central tenet. There are as many points where these nerves can get stuck as there are techniques to free it. When you properly release a nerve, fluids help restore the nutritional status of the nerve. The DVD teaches both direct and indirect myofascial techniques that accomplish this goal.
Anterior neck lesions are always problematic. There is a lot of anatomy packed in a small space and the entire area is vital. It is no exaggeration to say force is counterindicated. Alexander uses a sheath technique that bows the scalenes gently, independent of the patient's breath rate. It may take more time than most techniques, but it is less provocative. The DVD also details a wonderful technique that combines eye movement and breathing to relax occipital muscles. It is reminiscent of a method Dr. DeJarnette used in his cranial work. One of the best sections in this DVD is on creating proper abdominal breathing and avoiding what Travell calls paradoxical or chest breathing. If this isn't corrected, it strains the cervical musculature and makes any long-term correction unlikely.
Dr. Lavitan's Rating:

10 out of 10