To Your Health
July, 2007 (Vol. 01, Issue 07)
Movement
Do not let the dumbbells touch. 3 Draw in your abs and keep your back flat against the bench. Do not arch your back.

4 Press both dumbbells straight up and then together by extending your elbows and contracting your chest. Do not let the dumbbells touch.

5 Pause at the top.

6 Slowly return the dumbbells toward your body by flexing your elbows and allowing your shoulders to relax.
STABILITY BALL BARBELL PRESS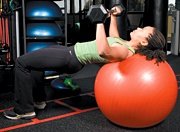 Keep toes pointed straight. Getting Started
1 Lie on a stability ball with the ball placed between your shoulder blades and head, with your head resting comfortably on the ball.

2 Maintain a bridge position by squeezing your glutes and keeping your shoulders, hips and knees at the same level.

3 Your feet should be shoulder-width apart, with toes pointed straight.

4 Hold the barbell at chest level.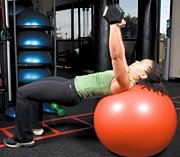 Stop just before your elbow joints are straight. Movement
5 Push the weight up, while keeping your elbows parallel. Stop just before your elbow joints are straight.

6 Lower the weight slowly until your elbow joints are in line with your shoulders.

7 Reverse the motion.
Good luck, and enjoy your workout! Next month, we'll focus on strengthening and toning the arms.
---
Chelsea Cooper, MPA, CPT, is certified by the National Academy of Sports Medicine as a personal trainer, performance enhancement specialist, and rehab and exercise specialist. To learn more, visit www.trainwithchelsea.com.