To Your Health
July, 2007 (Vol. 01, Issue 07)
STANDING CABLE CHEST PRESS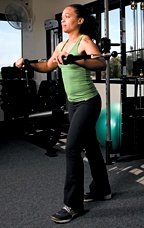 Foot position may vary. Do not change position during the exercise. Getting Started
1 Stand with your back to the weight stack, your feet shoulder-width apart and pointing straight ahead, and your knees slightly bent.

2 Maintain a stable position with your knees over your second and third toes.

3 Hold one cable in each hand at chest height (palms facing the floor), with your elbows flexed and slightly below shoulder level.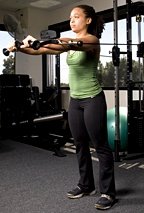 Keep head from leaning forward. Movement
4 Squeeze your glutes and draw in your abs.

5 Press cables forward and together by extending your elbows and contracting (squeezing) your chest. Do not let your head jut forward.

6 Slowly return your hands to the original position by flexing your elbows and squeezing your shoulder blades.
INCLINE DUMBBELL CHEST PRESS

Hold dumbbells at chest level. Getting Started
1 Lie with your back flat on an incline bench (different from flat bench), feet flat on the floor and toes pointing straight ahead.

2 Hold one dumbbell in each hand at chest level, slightly outside of your body line, with your elbows flexed.