To Your Health
December, 2008 (Vol. 02, Issue 12)
Research has shown that lap/shoulder seat belts, when used, reduce the risk of fatal injury to front-seat occupants (ages 5 and older) of passenger cars by 45 percent and the risk of moderate-to-critical injury by 50 percent. For light-truck occupants, seat belts reduce the risk of fatal injury by 60 percent and the risk of moderate-to-critical injury by 65 percent. In 2006, 6,983 passenger vehicle occupants ages 14 and younger were involved in fatal crashes. For those children whose restraint use was known, 25 percent were unrestrained; among those who were fatally injured, 45 percent were unrestrained.
One of the best ways to prevent an injury is for infants and children to always ride in car safety seats. For older children, a proper restraint system must be used each and every time they ride. For example, a safety seat can hold the child securely in the car and even help absorb some of the forces of violent car crashes. And of course, as a rule, every child should be buckled up for every ride.
Using the safety seat correctly does make a difference. The child must be held securely in the safety seat - harness, straps and a shield. Just a little mistake in the way the seat is secured in a car can make even the safest seat fail in a crash. If children are less than 4'9" tall, they must be in a booster seat. This is vital, yet too many people ignore the rule. "Only an estimated 10 to 20 percent of children ages 4 to 8 are placed in booster seats by the adults who care for them," asserts J. Robert Galvin, MD, MPH, commissioner of the Department of Public Health.
Why is this so important? A study by Children's Hospital of Philadelphia indicates that children in this age group who use booster seats are 59 percent less likely to be injured in a car crash than children restrained by a seat belt alone. Every year, children suffer preventable injuries and deaths in motor vehicle crashes because they are not riding in an appropriate child safety seat or booster seat. Booster seats help to correctly position lap-shoulder safety belts for children who have outgrown their child safety seats.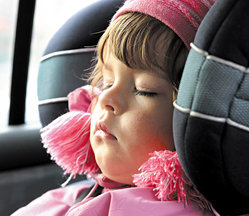 For maximum child passenger safety, parents and caregivers need to remember and follow the 4 Steps for Kids:
Use rear-facing infant seats in the back seat from birth to at least 1 year of age and at least 20 pounds.
Use forward-facing toddler seats in the back seat from age 1 and 20 pounds to about age 4 and 40 pounds.
Use booster seats in the back seat from about age 4 to at least age 8, unless the child is 4' 9" or taller, and use safety belts in the back seat at ages 8 or older (or when your child is taller than 4' 9").
All children under the age of 13 should ride in the back seat.
Remember, as parents, it's your responsibility to keep your children safe and provide an environment that is secure - and it's my responsibility as a health care provider to do the same. For more information about child seat safety, talk to your doctor. Another good resource is the National Highway Traffic Safety Administration Web site: www.nhtsa.dot.gov.
---
Nancy Martin-Molina, DC, QME, MBA, CCSP, is a doctor of chiropractic and certified chiropractic sports physician practicing in San Juan Capistrano, Calif. She can be contacted via her Web site, www.molinachiropractic.com.