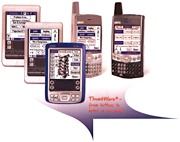 Quick Notes proudly releases our much-anticipated Version 4.5 Upgrade to the popular PDQ Portable Note System. PDQ, already the only fast, customizable and truly EASY portable note solution in Chiropractic has just gotten better.
And the improvements are making PDQ even faster, and more customizable, and 100% portable with WiFi, and of course, EASIER than ever before.
PDQ is geared towards providing a solution for daily notes, so the DC and Staff can create notes in the room with patients. Unlike other systems, PDQ uses simple navigation and bib, customizable buttons, so the process is easy to implement and easy to learn. And notes for virtually any type of patient or visit can be completed in 30 seconds or less!
Our new Version 4.5 has added modules for specialties like Acupuncture, Nutrition, Exercise and Postural Analysis. And we have improved our "Grab'n'Go" feature so Sports Chiropractors can take PDQ to the game and see notes specifically for your athletes.
But the improvements of version 4.5 don't stop with PDQ. Our Electronic Health Records software, Q'Notes, has also reached a new plateau. Many features have been added, including Windows Vista support, SALT (same as last time functionality), case management and "QuickEntries" for phone calls, cancellations and no-shows.
Please visit our website and take a look at PDQ and Q'Notes. Or call our sales team and request information or a web demonstration. It's time to see the solution that is EASY.
Quick Notes
800-899-2468 ext 238
sales@qnotes.com
www.qnotes.com