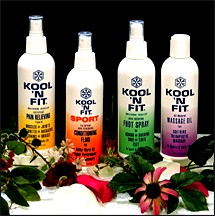 KOOL 'N FIT® "Pain Relieving Liquid" is a proven, all-natural spray containing over a dozen herbal ingredients. Just spray it on (no rubbing needed) and feel its deep penetrating action do its work, giving the user an effective pain relief without inflammation or irritation of the skin. By stimulating blood flow, relaxing tight muscles, and its cooling action, KOOL 'N FIT® "Pain Relieving Liquid" invigorates, relieves cramps, restless legs, and creates a feeling of well being.
KOOL 'N FIT® "SPORT CONDITIONING FLUID" is a powerful, all natural external muscle spray for better performance and health in sports. It's used before exercise to prepare the body, during sports to invigorate and afterwards to recover faster. It is easy to use, non-staining and greaseless. Used worldwide by many professional athletes, teams, trainers and coaches to train and compete at the highest possible level.
KOOL 'N FIT® Foot Spray is especially designed to relieve aching, tired, burning, swollen feet. It is all-natural, safe and effective. It contains "Teatree Oil" (natural antifungal & medicinal qualities), anti-bacterial and anti-septic; it also helps control foot odor. Since it is non-staining, women can spray it directly onto nylons for instant relief. This is handy for people who are on their feet often such as nurses, flight attendants, waitresses etc.
KOOL 'N FIT® All Natural Massage Oil is a specially designed vitamin enriched formula containing only pure botanical oils - no mineral oils or animal by-products. Its carefully selected ingredients make it an ideal emollient to nourish and protect the skin. KOOL 'N FIT® Massage Oil is "water dispersible," thus leaving no stains on sheets or clothing after it's laundered.
Call your favorite distributor or 800-852-5665. www.koolfitamerica.com