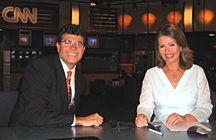 Chiropractic Profession Holds Unique Opportunity CNN Español Live Interviews Dr. Fabrizio Mancini
NOVEMBER 5, 2004 (DALLAS, TX) -- The chiropractic profession has the unique opportunity to help its patients achieve a lifetime of healthy living. Dr. Fabrizio Mancini recently shared this insight with viewers of CNN's Nuestro Mundo daily news program.
Dr. Mancini, president of Parker College of Chiropractic, was interviewed by Glenda Umaña, anchor of Nuestro Mundo aired daily on CNN Español Live which is seen by an estimated 38 million viewers.
"Chiropractors work on prevention, not just acute health care," Dr. Mancini explained. According to Dr. Mancini chiropractors champion the health of their patients through treatment intended to remove interference with the body's muscular, nervous and skeletal systems, especially the spine, which could reduce the body's ability to resist disease.
Two basic premises support chiropractic care. First, the body is designed to heal itself. "Our bodies have a miraculous ability to heal themselves when they are functioning properly," Dr. Mancini explained.
Second, the body is controlled by the nervous system, brain, the spinal cord and the nerves that go to all the cells in the body. "When the body has a subluxation — a nerve interference primarily in the spine — the body's electrical system malfunctions. The cells do not get the proper nerve communication and a person may become ill," he said. "It is through the treatment of the spine," Dr. Mancini continued, "and by encompassing the many factors that affect health including fitness, nutrition, and self awareness, that Chiropractors help patients achieve relief from many conditions and ultimately maintain healthy lifestyles."
Dr. Mancini also told the viewers that many Hispanics use a Doctor of Chiropractic as their primary health care provider because Chiropractic uses a natural, holistic and conservative approach to health care. He noted that supporting the growing demand for Chiropractic care by the Hispanic population will require more Hispanic Chiropractors.
"Not only is there a need for Hispanic chiropractors," Dr. Mancini said, "but also for a continued addition of highly trained and skilled Chiropractors to meet the growing demands for Chiropractic care." According to the U.S. Department of Labor, employment of chiropractors is expected to grow faster than the average for all occupations through the year 2012. "Over 30 million American seek Chiropractic care on an annual basis. We need to make sure our profession is ready to help meet their health needs," Dr. Mancini concluded.
The increased interest in Chiropractic is also reflected in the positive response to "Chicken Soup for the Chiropractic Soul," co-authored by Dr. Mancini, Jack Canfield and Mark Victor Hansen. Now in its third printing, the book contains stories that inspire readers and give hope to thousands who have been helped through Chiropractic care.
---
About Parker College of Chiropractic
Parker College of Chiropractic, located in Dallas, is one of the country's leading educators of healthcare professionals with an international student enrollment. Founded in 1982, this private, non-profit educational institution prepares men and women to become Doctors of Chiropractic. Parker College is accredited by the specialized professional accreditation agency, the Commission on Accreditation of the Council on Chiropractic Education (C.C.E.), (480) 443- 8877, located at 8049 No. 85th Way, Scottsdale, AZ, 85258-4321. The regional accreditation agency, the Commission on Colleges of the Southern Association of Colleges and Schools (S.A.C.S.), (404) 679-4501, located at 1866 Southern Lane, Decatur, GA, 30033-4097, also accredits Parker College to award the Doctor of Chiropractic degree and the Bachelor of Science degree in Anatomy. For additional information about Parker College of Chiropractic, visit the college's website at www.parkercc.edu.
For further information, contact:
Kathy Kingsolver, Marketing Coordinator
kkingsolver@parkercc.edu
(214) 902-2445
Anne O'Neill, Marketing Program Manger
aoneill@parkercc.edu
(214) 902-2445