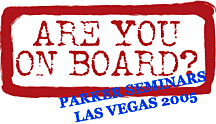 OCTOBER 14, 2004 (DALLAS, TX) - Get on Board! will take the chiropractic community through healthy choices for a lifetime of healthy living when the profession meets for the 2005 edition of Parker Seminars Las Vegas.
Get on Board! will bring together outstanding leaders and lecturers in the field of chiropractic, nutrition, fitness, personal motivation and development and vendors for the annual meeting scheduled for January 13-15 at the Las Vegas Hilton.
"Here at Parker Seminars we believe the distinctive purpose of the chiropractic community is to enable our patients to create balance in their lives and lead a lifetime of good health. The journey can begin in Las Vegas. It's time for all of us to Get on Board! with making healthy decisions, being responsible for our choices and leading by example," said Dr. Fabrizio Mancini, President of Parker College of Chiropractic and Parker Seminars.
"With so much emphasis on wellness in the media and the increasing demand for health care providers to give guidance to their patients to be accountable for their lifestyle, Parker Seminars wants to bring a message to our attendees of action steps for educating patients to make good decisions," he said.
Stephen Covey, an internationally respected leadership authority, will headline a prestigious group of motivational and personal development speakers. Naomi Judd, Mark Victor Hansen, Barbara DeAngelis, and Jack Canfield, will add their valuable insight in presentations scheduled throughout the seminar.
Parker Seminars Las Vegas kicks off on Wednesday evening, January 12, with a Patient Education and Appreciation event and an all-star cast of dynamic speakers during relevant and practical presentations centering on healthy living. Chiropractic patients are encouraged to attend this session to learn how they can work with their own chiropractor on a healthy lifestyle.
Throughout the seminar speakers and classes will strategically equip chiropractors and their staffs in all areas of practice so they can maximize their sphere of influence and effectiveness for their patients. Seminar attendees can learn from the best in the field on techniques through overview presentations and demonstrations. Classes in the areas of Parker Procedures, Personal Development, Chiropractic Philosophy, Nutrition, Building a Successful Practice and classes specifically designed to better equip chiropractic assistants will be featured throughout the seminar.
"As chiropractors we have always known that overall wellness is an interweaving of the mind, body, spirit and relationships. Each core element relates to the others. It is essential to have a balance of these elements to stay on the journey to overall healthy living and making good choices," explained Dr. Mancini.
"Today, more than ever, our patients need for us to guide them through their choices for a healthy lifestyle. We have the tools, knowledge and desire to truly impact the lives of others. Today is the time for our profession to step up with clarity and vision and respond to the needs and desires of those whom we serve on a daily basis," Dr. Mancini concluded.
Attendees are encouraged to register early as rooms at the Las Vegas Hilton are filling quickly. Call 888-727-5338 to register for Parker Seminars Las Vegas 2005 or go to www.parkerseminars.com to register online.
About Parker Seminars
Dr. James W. Parker started Parker Seminars more than 50 years ago to help the chiropractic profession by sharing efficient and effective techniques for growing and nurturing chiropractic practices. Several times each year, the Parker Seminars offers energizing lessons from some of the leading chiropractors and business management experts in the country to promote the chiropractic profession by helping doctors of chiropractic, chiropractic assistants, office workers, and their families. For more information, visit www.parkerseminars.com
For further information, contact:
Anne O'Neill, Marketing Program Manager
Kathy Kingsolver, Marketing Coordinator
Tel: 214-902-2445
Fax: 214-902.2435
aoneill@parkercc.edu
kkingsolver@parkercc.edu