Industry News for Foot Levelers
---
Foot Levelers' Hands-On License-Renewal Seminars in a City near You this Fall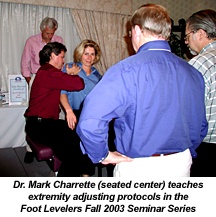 (Roanoke, VA) Foot Levelers'
2003 Fall Seminar Series
debuts this fall in a city near you. The series consists of 33 seminars throughout 24 states, from Boston to San Francisco. Foot Levelers, in conjunction with seven Chiropractic colleges, has selected seven of the top educators in Chiropractic to present practical information you can put to immediate use on topics such as injuries, rehab, clinical application, and adjusting techniques.
The license renewal seminars cost $199 (only $79 for students/CAs) if you register at least 14 days in advance. Save an additional $10 by registering over the web at www.footlevelers.com.
Seminar proceeds will be donated to New York Chiropractic College, Parker College of Chiropractic, Northwestern Health Sciences University, National University of Health Sciences, Cleveland Chiropractic College, Palmer Institute for Professional Advancement, and Texas Chiropractic College.
Speakers include: Dr. Mark Charrette, Dr. Kurt Larsen, Dr. John Hyland, Dr. Kirk Lee, Dr. Wayne Zemelka, and Dr. Tim Maggs. Dr. John Danchik will teach three one-day twelve hour seminars, a first for Foot Levelers.
Foot Levelers is a world leader in custom-made Spinal Pelvic Stabilizer™ Orthotics. Through peer-reviewed research and millions of satisfied patients, our orthotics have proven themselves for over 50 years. For more information on continuing education opportunities from Foot Levelers or to register for an event, call toll free: 1-800-553-4860 (from Canada: 1-800-344-4860), or on the web at www.footlevelers.com.
DR MARK CHARRETTE
Charrette Adjusting Protocols
Co-sponsoring College - Texas C. C.
ONE-DAY 12-HR SEMINARS
DR JOHN DANCHIK
Common Injuries of the Lower Extremities
Co-sponsoring College - National
Sept. 13-14
Sept. 20-21
Sept. 27-28
Nov. 1-2
Nov. 8-9
Nov. 22-23
Wichita, KS
Columbus, OH
Milwaukee, WI
Des Moines, IA
Reno, NV
Houston, TX
Oct. 18
Nov. 15
Dec. 6
Philadelphia, PA
Boston, MA
Arlington, VA

DR KIRK LEE
Chiropractic in the World of Sports Injuries
Co-sponsoring College - Palmer University

Sept. 13-14
Oct. 11-12
Oct. 25-26
Nov. 1-2
Providence, RI
Nashville, TN
Wilkes Barre, PA
Sioux Falls, SD

DR JOHN HYLAND
ChiroPractical Rehab™
Co-sponsoring College - Cleveland C.C.

Sept. 20-21
Sept. 27-28
Oct. 4-5
Oct. 11-12
Nov. 15-16
Nov. 22-23
Boston, MA
Cedar Rapids, IA
Cleveland, OH
Winston Salem, NC
San Francisco, CA
Rockford, IL

DR KURT LARSEN
Improving Your Practice Outcomes With Craniopathy and SOT
Co-sponsoring College - New York C.C.

Aug. 9-10
Sept. 20-21
Nov. 15-16
Dec. 6-7
Mobile, AL
Sacramento, CA
Springfield, MA
Phoenix, AZ

DR TIM MAGGS
The Structural Management™ Program
Co-sponsoring College - Northwestern

Aug. 23-24
Oct. 11-12
Nov. 1-2
Nov. 22-23
Dec. 6-7
Omaha, NE
Richmond, VA
Minneapolis, MN
Denver, CO
Louisville, KY

DR WAYNE ZEMELKA
Segmental Drop Table Adjusting using Thompson Technique
Co-sponsoring College - Parker College of Chiropractic

Aug. 23-24
Sept. 27-28
Oct. 18-19
Nov. 22-23
Dec. 6-7
Baltimore, MD
Pittsburgh, PA
Albuquerque, NM
Charleston, SC
Dallas, TX