Industry News for Foot Levelers
---
New Cervical Pillow Starter Kit and Insurance Manual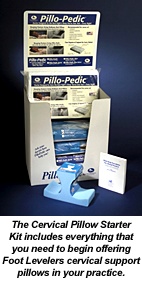 Roanoke, VA – The new Cervical Pillow Starter Kit from Foot Levelers, Inc. contains everything that is needed to offer cervical/pelvic support pillows in chiropractic practices. This comprehensive kit includes four different pillow models, an attractive display, and an insurance manual.
The Cervical Pillow Starter Kit includes four cervical/pelvic support pillows:
Pillo-Pedic® - the classic with high-density, long-lasting foam


Escape™ - contains the patent-pending Sleep Cycle System™" (SCS) for improved transitions through all sleep stages and positions


Petite Escape™ - for smaller profiled patients and including all of the features of the Escape


SideKick™ - can help to reduce back tension, maintain pelvic alignment, reduce stress on the hip joints, and stabilize twitchy legs that disrupt sleep through the night
This package includes an eye-catching 4'x 2' display that contains ample storage space for six cervical support pillows. The insurance manual, Third Party Procedures for Clinical Practice by Dr. K. S. J. Murkowski, is a valuable resource for writing letters of necessity, answering questions for insurance carriers, and selecting proper clinical codes.
To learn more about Foot Levelers postural support products, please call (800) 553-4860 or visit the website at www.footlevelers.com/