Industry News for OPTP
---
Self Treatments for Back, Neck and Limbs: A New Approach by Brian Mulligan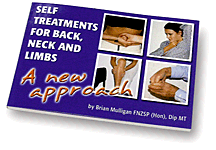 A new exclusive publication from OPTP, Self Treatments for Back, Neck and Limbs: A New Approach by Brian Mulligan is designed as a patient self-help guide. This book is intended as a complement to Mulligan trained therapist treatments.
This newly released softcover book is fully illustrated with over 100 pages. Some of the Mulligan concepts that are included are posture, Self-Snag techniques, exercise, taping techniques and Pain Release Phenomenon Techniques.
OPTP also offers many other products of Brian Mulligan's including the New Mulligan Seating Concept, a cushion that allows one to maintain the lumbar lordosis while sitting, and Kendall WET-PRUF® Waterproof Tape. For more information and a free catalog call OPTP toll-free at 1-800-367-7393 or write to PO Box 47009, Minneapolis, MN 55447. Visit our website at www.optp.com.