$10,000 Awarded to Dr. Brenda Malka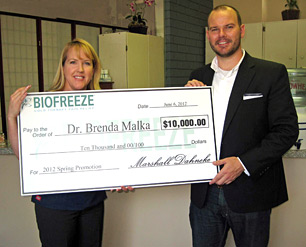 Kevin Jones, Associate Product Manager for Performance Health, presents Dr. Brenda Malka, DC with the grand prize check. Akron, Ohio – July 23, 2012 – Performance Health is pleased to announce that Dr. Brenda Malka, D.C., L.Ac., has been awarded the grand prize in their recent $10,000 Biofreeze® Pain Reliever sweepstakes. The sweepstakes was part of the 2012 Spring "Best Biofreeze Promotion Ever" campaign.
Dr. Malka's family practice in Encino, California focuses on pain relief, cosmetic treatments in cellulite reduction and acupuncture facelifts. Her six-member staff includes Matza, the perfect therapy dog. Dr. Malka received her license in massage therapy 20 years ago and her Doctor of Chiropractic degree from the Los Angeles College of Chiropractic 14 years ago. Dr. Malka recently received a license in Acupuncture and Asian medicine.
"As a massage therapist, then a Chiropractor, and now an Acupuncturist, I have and continue to use Biofreeze Pain Reliever in all three aspects of my practice," stated Dr. Malka. "Biofreeze soothes my patients' pain during treatment, and I encourage them to use Biofreeze at home to continue the therapy when I am not present. Biofreeze is like having a doctor in your medicine cabinet!"
---
About Performance Health
Featuring leading brands like Thera-Band®, Biofreeze® and the new Pedigenix® Foot Care System, Performance Health offers a broad portfolio of products for the therapy, rehabilitation, wellness, massage, podiatric and performance markets. In addition to market-leading products, Performance Health provides practice building support, evidence-based protocols, clinical and product education, turn-key dispensing and pain management solutions. www.biofreeze.com