New Resource, written specifically for therapists, features research and evidenced-based exercises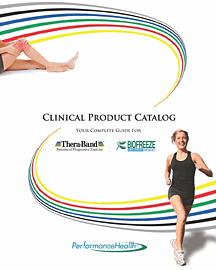 Akron, Ohio – June 29, 2011 – Many healthcare providers will be very pleasantly surprised by the new Performance Health Clinical Product Catalog. They will discover an entire range of products, all in the tradition and quality of market leading Thera-Band® elastic bands and Biofreeze® Pain Reliever, including innovative, effective tools for flexibility, strength and balance training, as well as applications for cardio. In addition, the evidence and science behind the products, as well as some of the key exercises, are featured in the catalog. The catalog is available online at www.performancehealth.com.
"Many practitioners aren't aware how broad our portfolio is. In fact, many don't even know that Biofreeze and Thera-Band are owned by the same company. This catalog is really more of a reference book as it goes beyond just describing our product; it includes product research and product application that professionals can rely on when working with their patients," stated Ethan Pochman, director of clinical marketing for Performance Health. "We've worked hard to base our growing Thera-Band line on quality and innovation, and now have so much more than the best bands and tubing. On the topicals side, our Biofreeze products play a critical role in the process of recovery, training, and even wellness, and the tools we offer, like customized free samples and our Where-to-Buy referral service, are unmatched in the industry. This catalog really showcases everything we bring to practitioners to help them be successful."
The new Performance Health Clinical Product Catalog includes –
The complete line of Thera-Band, Biofreeze, Prossage and Parabath products
Research findings that prove the products' efficacy
Case studies that exemplify their success
Evidence-based exercises that showcase their best uses, and
Advice from practitioners who rely on them
Download a free copy today at www.performancehealth.com.
Evidence for the clinical use of Thera-Band and Biofreeze products is provided by the Thera-Band Academy, which promotes and disseminates research and educational initiatives throughout the world. Its web site, www.Thera-BandAcademy.com, is a unique resource that connects healthcare professionals and consumers to an ever-growing body of knowledge.
Please also visit www.PerformanceHealth.com to see a new landing page that pulls together all the clinical offerings from Performance Health including internet tools, social media links and an electronic version of the catalog, including videos.
---
About Performance Health
Featuring leading brands like Thera-Band and Biofreeze, Performance Health offers a broad portfolio of products for the therapy, rehabilitation and wellness markets. In addition to market-leading products, Performance Health provides evidence-based protocols, education and pain management solutions.