Akron, Ohio - February 28, 2011 - Marshall Dahneke, President and CEO of Performance Health / Hygenic Corporation, addressed the audience at the 13th annual Pain Management Seminar at Sea conference, presented by James Waslaski and The Center for Pain Management. In his presentation, "Journey to Achieving our Full Potential," Mr. Dahneke outlined five steps for reaching personal fulfillment, based on his personal experiences and success. Those steps include, among others, "people matter" and "becoming other-centered."
"Those in the massage industry truly exemplify my definition of 'other-centered," in which service to others is key," stated Mr. Dahneke. "Massage therapy is all about improving the quality of life—providing comfort, facilitating transitions, offering hope, simply doing what's right for others. Success in reaching our full potential requires conviction and commitment. It's not just business, it's personal."
One-Week CEU Program
The January cruise aboard the Royal Caribbean Voyager of the Seas included classes by Ruth Werner, LMT and James Waslaski, LMT. Ms. Werner, an author, and educator and President of the Massage Therapy Foundation presented, "Making the vital study of Clinical Pathologies Fun," and "Creating High Quality Case Reports to Submit as the Backbone of Massage Therapy Research."
Mr. Waslaski, an author, international lecturer and 2008 Massage Therapy Hall of Fame Inductee, presented two topics; "The Application of Clinical Studies and Soft Tissue Research that will Revolutionize Treatments for Complicated Elbow, Forearm, Wrist and Hand Conditions," and "Double (or multiple) Crush Phenomenon: The role cervical and thoracic conditions on numbness, weakness and tingling in the arms and hands. Both presentations included hands-on training."
Ruth and James aligned their work to help the practitioners validate the results they are getting with complicated pain conditions Over 50 massage therapists had the opportunity to earn 18 continuing education units (CEUs).
"I created the cruise seminar for two main purposes," stated James, who in 2008 was inducted into the Massage Therapy Hall of Fame. "Usually when massage therapists attend conferences to obtain 18 CEUs, it can cost around $1,300 when you include travel, hotel stays, seminar fees, and food. Our
Seminar at Sea Conference provides the same number of CEUs for generally half the price and, for the snow-bound, it's a welcome sun-filled excursion. Secondly, on a cruise you have access to instructors on a one-on-one basis while having lunch or dinner, going on group excursions together, or walking on deck. Also, there is relaxed networking with fellow LMTs, industry pioneers, and cutting edge business leaders."
Becoming "Other-centered"
In addition to hands on education and access to all the cruise activities, the therapists and their guests had the unique opportunity to visit the Majken Broby Children's Home in Roatan, Honduras. Established in 1981, the resident children are benefited by the organization's focus on their health, safety and general welfare. Most of the residents come from broken homes, or homes in which the parents simply lack the resources to raise and support their children.
Mr. Dahneke commented, "I'm sure I speak for all when I say that the visit to the children's home was the most memorable part of our week. After locally shopping for groceries, we arrived at the home with a van full of food. The kids were excited by the unexpected gift and we were truly moved by their humble gratitude. We spent several hours visiting with the kids, touring the facility and participating in a highly competitive game of soccer. It was a wonderful service effort that enriched us all."
People matter
Another highlight of the week was the presentation of the Performance Health / Hygenic's Award of Excellence to James and Fran Waslaski. When presenting the award, Mr. Dahneke stated that the reason the James and Fran team is so effective is because they model all of the behaviors they teach. Their award plaque includes Albert Schweitzer's quote, "Example is not the main thing in influencing others. It is the only thing."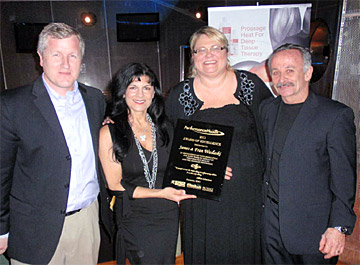 ---
About Performance Health / Hygenic
Performance Health / Hygenic is a leading designer, manufacturer and marketer of a broad portfolio of products for the therapy, rehabilitation, massage, wellness and consumer retail markets. Maker of market-leading Thera-Band®, Biofreeze® and Perform® products, Hygenic / Performance Health provides evidence-based protocols, education, turn-key dispensing and pain management solutions.
www.thera-band.com
www.biofreeze.com
www.thera-bandacademy.com