GOOD NEWS! Therapy While You Drive!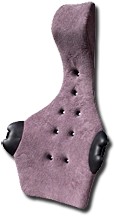 Are you one of many millions who suffer from "Chronic" back pain? Are you uncomfortable in your car or truck? Are you concerned about whiplash? If so, you need the "New" Auto Support from Therapeutica®.
Our Auto Support has the same unbeatable comfort and support as our original Back Support, plus IT HELPS PREVENT WHIPLASH by supporting the neck and head, and providing correct spinal alignment! The thoracic section provides support for the entire thoracic and the lumbar section maintains support for the natural curvature of the spine. Side wing sections provide uplifting comfortable support for the kidney area; and the sacral Section provides support to the bottom of the back.
Our Auto Support has the same unique construction as our original Back Support. A fiberglass insert provides the firmness and shape that encourages you to sit correctly and is surrounded with soft premium quality foam and covered with a specially woven stretch fabric cover. Therapeutica® Auto Supports are warranted for 5 years to maintain their shape and resilience.
Available in three sizes: Low Back, Mid Back and High Back.
For more information, please contact:
Therapeutica® Inc.
3-40 Dynamic Drive
Toronto, Ontario, Canada M1V 2W2
1-800-348-5729 Fax (866) 348-5721
E-mail: info@therapeuticainc.com
Web Site: www.therapeuticainc.com