Biofreeze® Is Proud To Sponsor Florida Immediate Response Stress Team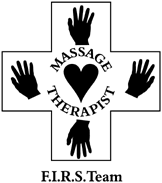 Performance Health, Inc. the makers of Biofreeze Pain Relieving Products, is proud to sponsor FIRST, the Florida Immediate Response Stress Team. Biofreeze has been a sponsor since its inception in 1998 by providing Biofreeze and other support for each of their deployments. For over 12 years, Biofreeze is the most utilized and trusted topical pain reliever of the massage profession.
FIRST is a non-profit, volunteer organization, which is comprised of a group of several hundred licensed massage therapists who respond to disasters. FIRST began as a result of three tornados touching down outside of Orlando in February 1998. Their mission is to provide stress relief to those in need following a disaster or critical incident. To accomplish this mission, they respond to disasters to provide chair massages and stress management to the rescue workers, responders and uninjured victims. FIRST has responded to disaster incidents throughout Florida as well as in Oklahoma, North Carolina and in New York City during the 9/11 attack.
FIRST has teamed up with the FSMTA (Florida State Massage Therapy Association) to provide the one day basic training classes to all members who are interested in joining FIRST. For more information about FIRST or for a schedule and location of upcoming FIRST Basic Training classes, or would like to coordinate a training class in your area, please contact Sue Welfley, Director at (813) 932-2558 or visit their website at www.fsmta-tampabay.org/first.htm.