Performance Health & Logan Award 3RD Annual Biofreeze Scholarships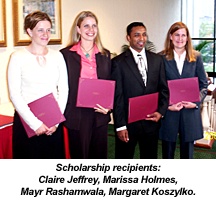 Performance Health, the makers of Biofreeze Pain Relieving Products was proud to award the 3rd annual Biofreeze Scholarships to 6 student of the Logan College of Chiropractic. The Biofreeze Scholarships were awarded at the June 6, 2003 Homecoming Scholarship Presentation.
There were 3 recipients each in 2 categories for which the scholarships were awarded. The 2 categories were the First Trimester Category in which the recipients were nominated by their classmates, and the Student Health Clinic Category where the students were chosen by the clinicians.
The students who were awarded the First Trimester Scholarships are: Claire Jeffrey, Marissa Holmes and Dawn Bailey. The recipients of the Student Health Clinic Scholarships are: Kelly Minnicucci, Mayur Reshamwala and Margaret Koszylko. The students were chosen based on the criteria agreed upon between Logan and Performance Health.
The idea of the Biofreeze Scholarship Program was conceived over 3 years ago. Performance Health is going into their 13th year of business and consider it an honor to be able to help the students and give back to the Chiropractic Profession.