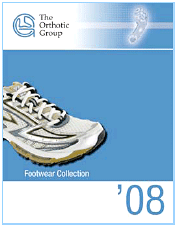 TOG provides healthcare practitioners with more premium brand name footwear and valuable marketing tools to help build their practice.
Markham, Ontario, Canada, April 2nd, 2008 - The Orthotic Group, a world leader in custom orthotics, orthotic footwear and innovative computerized gait analysis technology GaitScan™, today announces it's new 2008 Signature Footwear collection with the addition of over fifty new premium brand name shoes, sandals and boots.
"We are very excited to present The Orthotic Group's new marketing materials for our 2008 Signature Footwear and Orthotic collections. This includes a 2008 Signature Footwear Collection catalogue with over sixteen premium brand names, a 2008 orthotic brochure with three new orthotics and six new footwear posters." Quoted Michael Shulman, president of The Orthotic Group, "We believe our brochures and posters are valuable marketing tools that will increase our healthcare practitioner's ability to present patients with a wide selection of our premium brand name footwear and orthotics."
As we continue to grow we add more premium brand name footwear lines to our collection. This year we formed new partnerships with Merrell®, p.w. minor®, CAT® Footwear, Naot®, Bite®, Fila®, AND1®, Sebago®, Dr. Martens® and Umbro®. We have continued and strengthened our partnerships with Brooks®, Hi-Tec®, Magnum®, Geronimo®, Hush Puppies® and Florsheim®. As well, our own TOG brand footwear line remains as strong as ever.
Our established partnership with Florsheim® brings the addition of two new shoes to our men's refined casual line, the Border and Tamarack. The full grain leather Border is a sporty slip-on loafer with bicycle-toe design that is dressy enough for casual office wear and relaxed enough for the weekend. The Tamarack has a modern flare on the classic dress oxford that features a leather upper, leather linings and a flexible polyurethane bottom. We now carry five shoes in total with Florsheim®: the Corbin™, Cornell™, Austin™, Border™ and the Tamarack™.
Our Brooks® premium line offers running shoes specializing in Motion Control, Support, Guidance System and Neutral Cushioning. This year, we have rolled out the red carpet adding the new Brooks® Infiniti. Plush meets performance in this shoe, with stacked MoGo™ in the forefoot for a cushy toe-off and just the right amount of guided stability to curtail mild over pronation. This rising star is ready for serious mileage.
We have also partnered with Bite® and Naot® to provide patients with exceptionally well-built and super comfortable sandals. One unique feature of the new Bite® sport sandals is the unobtrusive toe guard that prevents patients from stubbing their toes, and from ending up with pebbles under their feet. The new Naot® sandals have handmade quality that is stylish, flexible, durable and comfortable.
In partnership with Merrell®, we are introducing the new women's Siren and men's Moab sport shoes. The Siren is for women who want to stretch their limits off the beaten track. The men's Moab is an endless summer essential with highly evolved breathability for hiking or biking the trails. Also added is the women's casual/athletic Solana, a maryjane sneaker that is cute and comfortable! This whisper-weight shoe is made for energetic women. A touch of tennis, a little track, a sporty slip-on, the new women's Barrado is a comfortable and stylish soft leather slip-on, secured with instep zip closures. The natural heart and soul of Merrell® - style, comfort and performance!
We are also introducing the new p.w. minor™ collection for patients who have diabetes, arthritis or sore feet and want comfortable orthopedic like shoes that are casual and smart. All shoes are available in various sizes and widths ranging from narrow to extra extra wide.
To meet the needs of patients who have safety requirements at work, we have expanded our safety collection by partnering with CAT® Footwear, one of the one hundred most recognized brands in the world. The new Fuselage™ Hi and Lo has a composite safety toe, is slip resistant and has iTechnology™ for your patients who want maximum durability and ultimate comfort. The new men's Escalade™ and Pursuit™ have a steel safety toe and are extremely slip resistant. The new women's Kitson™ has an advanced alloy safety toe cap, is slip resistant and has Thinsulate™ insulation. CAT® Footwear, provides workboot durability and athletic shoe comfort.
We are also pleased to announce the launch of three new types of orthotics. For the world's most participated sport, soccer, the new SoccerFlex is for players that require moderate to maximum biomechanical control and is designed to prevent sport related injuries by protecting against pressure and impact shock. Our new CourtFlex is specially engineered for the high performance court player, designed to take pressure off the Achilles Tendon, promote greater ankle dorsiflexion and to increase shock absorption. Our new SafetyFlex is specially engineered for the patient who is on their feet all day in a rugged environment and wants the ultimate in comfort, shock absorption, stability, support and durability.
Our new 2008 Signature Footwear Collection offers an increasingly large selection of premium brand name footwear in half sizes and various widths providing patients with the best comfort and fashionable footwear anywhere!
About The Orthotic Group
The Orthotic Group (TOG) is one of the largest custom orthotic laboratories in North America. The company was founded in 1985 to meet the orthotic needs of healthcare practitioners. With custom orthotics, orthotic footwear and a computerized analysis system GaitScan™, TOG products and services are renowned for their innovative design, quality and comfort. Based in Markham, Ontario, The Orthotic Group's products are sold in Australia, Canada, the Caribbean, Denmark, Finland, Ireland, Japan, Korea, the Netherlands, Norway, Singapore, Sweden, the United Kingdom, and the United States. For more info, explore The Orthotic Group website at theorthoticgroup.com or contact us at 1.800.551.3008.
Media contact:
Colleen DuHart
1.800.551.3008 ext. 3122
cduhart@theorthoticgroup.com