We know reputation marketing is a big focus for every practitioner. I have provided some tools to assist in building your reputation. Some of the topics have been on the importance of reviews, how back linking to highly credible websites boosts your image and the review or citation sites you should be listing and utilizing to pull in traffic. Now, let's go one step further. We will be discussing content or marketing messages you should be using to build your authority and credibility.
Educator and Advocate
Have you ever wondered why some practitioners are considered more credible or seem to have more authority than others? Why are they considered "experts?" Why do some practitioners seem to have an endless supply of customers wanting to book treatments with them? Why does it seem like some practitioners have their customers referring their family and friends continuously? It isn't magic; they have figured out who their customers are, what their needs are and shared how they can help them. In other words, they have positioned themselves as an educator and advocate for the success of their customers. How do they do that? We are going to share the ways in which you can develop yourself as an educator and advocate for your customers and position yourself to achieve that same success.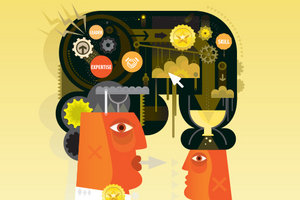 Marketing With a Purpose
I have noticed over the years, that most business owners do not know how to market with a purpose. The same is true with chiropractors. Some want to only focus on the techniques or use the platforms for listing out an online resume talking about their experience, education or what an expert they are.
When the reality is if they just focused on the ways to make their customers feel understood by entering the conversations in their client's head, they would automatically and almost instantly gain their trust. At the very least, they peak their customer's interest and start building a relationship. People make decisions to conduct business with people they know, like and trust. In order for people to feel comfortable, you need to build a relationship with them. This means you need to understand how they think.
So, how do you know what your patients are thinking? You have to first figure out who you are talking to. Who are your customers? Knowing demographics like age and gender will only get you so far. More importantly, what are their main concerns, what are their habits (specifically their buying habits) and where are you most likely to connect with them.
You also need to understand why you are talking to them. It isn't to "book an appointment" (although that may be the end result). You are conversing with them to help them see a bigger future. You want them to identify the pain they want to move away from. They are looking for answers or solutions to their problems; they aren't looking for names of techniques or care about your education or even how much your treatment plans cost. What they want to know is how you are going to help them feel better.
When you start crafting your content, consider how you want them to respond. Find out what their most important goal is and help them see a better future by imagining their world with that problem eliminated. Let them see what that problem is costing them and help them commit to their most important goal. Start your content with an end in mind, in other words, market with a purpose.
Let's get in the right mindset for marketing with a purpose. Going forward, I want you to ingrain this in your mind. You are not a chiropractor or any other certified title. To your customers, you are an educator and advocate for the success of your prospects and customers. Grab a pen and paper and write this down because this is important – "I am an Educator and Advocate for the success of my prospects and customers."
Why is this important? Because when you position yourself as the educator and advocate for the success of your customers, this removes any buyer/seller mentality. In fact, I don't want to you to even think about getting patients to book an appointment with you. Remove this from your mind. Concentrate on simply providing them with information that helps them solve their problem. As you move from the "book an appointment" or "let me tell you about this wonderful technique I just learned," or "how affordable my treatments are" into having a conversation with them about their needs, your mindset and theirs will start to change. They should begin to call you the expert and freely refer other to your practice. When you are seen as an educator and advocate your IDEAL clients want to work with you and one of the best benefits is price is not a factor.