Cause: Lack of productivity.
Another cause of lost passion is becoming "too busy" by filling your day with non-productive tasks. This effectively means you become married to your practice. You engage in a lot of "busy work." For example, you change the placement of items on your desk, but don't really reorganize anything.
Solution:
Don't procrastinate by putting things aside for tomorrow that could be completed today. Eliminate or delegate! Rekindle your passion by shedding non-productive endeavors and delegating low-priority responsibilities to others. Consider hiring an associate or additional practice team member.
Cause: Not enough work. Just as too much work can zap your passion, so can too much free time! Too much time on your hands causes your priorities to become distorted. Solution: You can avoid this by scheduling your patients' appointments into clusters for greater efficiency. Increase your productivity by raising the bar – hold a Patient Appreciation Day that increases the flow of patients into your practice. Expand your efficiency by "stacking a day" – book an entire day's appointments into half a day and watch your capacities soar!
Stress Is a Major Passion Drain
Much stress is self-imposed. You begin fighting the "solo battle." Your "self talk" includes statements such as, "Why do I have to do it all? Nobody cares but me! Can't anyone do anything right besides me?" You think no one else knows how tough it is.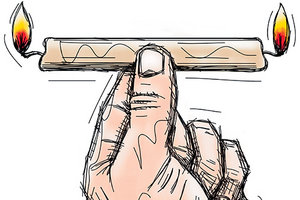 Solution: Combat the loss of passion that comes from carrying the weight of the world on your shoulders by sharing that weight with others. Attend seminars that provide you with a fresh perspective on how others are managing the constantly changing demands of their practices. Develop a brain-trust partnership of colleagues and mentors with whom you can meet to develop creative strategies and solutions. Visit other progressive practices to see first-hand the attitudes and procedures you can model in your own practice. Listen to tapes and read motivational books to develop inspirational role models.
The stress that comes from being "too busy" can drain your passion because you stop planning for success. This results in your goals becoming unrealistic and unfulfilled. Your life begins to run you. You stop exercising and become tired and unhealthy.
Solution: You can better manage stress by adhering to a schedule that allows time for planning. Adhere to a daily regimen that takes practice-building into account. Get up early and, for a minimum of 15 minutes a day, write down your goals and read your affirmations. Remember to plan for family times and vacations in advance as well. Compose and review a "love list" of your favorite things, people and places, and set a goal to increase their presence in your life.
Plan for Passion
Planning for passion includes planning your office procedures. Take a serious look at your practice; see what your office looks like. Sit where your patients sit; lie where your patients lie. Ask yourself, "If I were a prospective patient, would I come to this practice and trust my health to these people?"
If you've lost your passion for practice, it may be that practice has become routine for you. You've gotten tired of "the same old thing." Add excitement by adding new services or profit centers. Most importantly, get involved in something bigger than yourself. Create a purpose for your practice that includes more than just earning a living. You will eagerly put your heart and soul into a purpose you love and believe in.
Insanity is doing the same thing over and over and expecting a different result. Take a step back from your life. You do not need to leave your city or even your home, but you must be able to examine your life without being consumed by it. This means no phone calls, Facebook, e-mails or printouts. It means peace, possibly silence, and definitely solitude.
Reflect and listen to your heart. Look to your past, present, and future for clues as to what inspires and excites you – and then make a plan to include more of those things in your life.
---
Dr. Mark Sanna, a 1987 graduate of New York Chiropractic College, is a member of the ACA Governor's Advisory Board and a member of the President's Circle of NYCC and Parker College of Chiropractic. He is the president and CEO of Breakthrough Coaching (www.mybreakthrough.com).