Lights, Camera, Action: Week 3
Estimated time: Between 2-3 hours
Shooting video will be the biggest time commitment of the month, but will also provide a big impact. If you own an iPhone, Android phone or even a digital camera with video capabilities, shooting video will be a snap. Video is important for local businesses because it reaches a broad audience, builds trust in the viewer, communicates a lot of information, increases conversions and improves overall SEO.
Start with a video of you explaining your services. Potential patients want to see who the doctor is and what he or she has to offer. Best Practice Tip: Keep the video less than two minutes long for maximum views and retention. Next, shoot video of different services you provide. A great idea is to show you with a patient. Lastly, shoot video of your patients giving testimonials. Ask patients to focus on their experience and success. Don't worry about uploading the videos at this time since you will handle that in Week 4.
Connect the Dots: Week 4
Estimated time: 1-2 hours
In the final week of your month long implementation strategy, you will tie all of your efforts together to craft a cohesive online presence. Connecting all these elements first and foremost, provides for a great user experience and second, positively affects your SEO.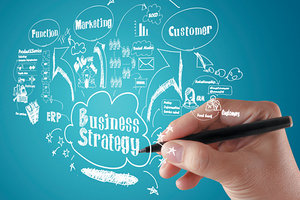 Start off by linking your social media sites to your website and vice versa. Each social media site will have a clear spot for your website address. Once you have completed that, add links from your website to your social media sites. This allows current patients to easily connect with you on social media and allows potential patients to learn more about your practice from your social media business page.
Next, upload your video and testimonials to your website. An easy way to do this is to upload the videos to a video sharing site like YouTube, Vimeo or MetaCafé and then embed the videos on your website. While you can add all of your patient video testimonials to one page, spread out any other videos across different pages on the website.
Once the video is up on your website, get the word out to get more views. Share the video on your social media sites so your followers can watch the videos. Ask them to "Watch our new video" or "Check out Dr. Kevin providing an adjustment." And that's it, you have completed your one month marketing push. The last thing you need to do is keep up the great work. Set aside a short amount of time each week to check in on your social media, look over your website and shoot any video.
When implementing a marketing plan, it improves efficiency and efficacy to have a clear strategy and goals. Building a strong online presence enables chiropractors to connect with existing patients (retention) and reach new patients (marketing). Once you have created your marketing strategy, stick to the schedule and goals. Be realistic about the strategy and slowly grow it as your time and resources allow.
---
Rachel Cunningham is a Marketing Content Writer at ChiroMatrix, a provider of affordable web marketing solutions for chiropractors. She has a MA in English from CSU Long Beach and a BS from Boston College. Rachel writes content optimized for search engines and users, creates engaging content for social media and crafts articles about SEO and social media marketing. More information about SEO, PPC, video and social marketing services from ChiroMatrix can be found at www.chiromatrix.com or by calling 1-888-988-5063.

Other DCPI articles by category:
DC.com Articles:
Community: