Timing of Development
Depending on your practice profile and the level of care you wish to offer in your office, it may be necessary to understand various developmental periods and what the result may be should insult occur during different times in utero and/or within the early years of life. Working on the premise of synaptic and neuroplasticity, one may want to offer neurofunctional/neurointegrative programs within their office or within their care protocol to help lay down or further develop weak neuropathways.
Chiropractic Care in the Neurodevelopmental Paradigm
I have had the privilege of working with some of the top researchers, pediatricians and other professionals in the autism world. One thing many of them have made clear is that the chiropractic profession is the best suited to be on the forefront of helping these children because of our philosophical beliefs that the body has the innate ability to heal itself given the right environment. It is my personal belief that chiropractic care is not an option for this population group, rather a must. However, those wishing to work in this paradigm must define their level of expertise as well as the functional level of the patient that they wish to accept under their care.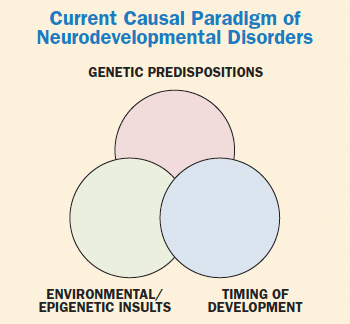 Defining Your Practice Profile
What is right for you and your practice? To help you determine if this is a paradigm that is right for you and, at what level would you like to incorporate such a population group, ask yourself the following ten questions:
Do I like working with children in general?
Am I one that can tolerate children with difficult behaviors?
What is the functional level and complexity of children that I feel comfortable working with (lower functioning children that may be more difficult to work with and need more complex intervention strategies or higher level children that may be more cooperative and need less intervention)?
What types of services do I wish to offer in my office (chiropractic care, functional lab testing, neuronutritional/biomedical, neurofunctional, sensory integration, hyperbaric oxygen therapy, etc)?
Do I personally wish to administer these types of services or do I want to hire others to perform these services within my office setting.
Do I wish to work in this paradigm but stick strictly to chiropractic care and have a working relationship with other professionals in my community that also work in this paradigm?
What percentage of my practice would I like to see dedicated to this population group?
Am I willing to seek out post-graduate courses to better help me understand and work with this population group, if so, to what level?
Am I willing to experience the "highs", as well as the "lows", that come when working with these children? Note: These experiences can be some of the most life changing things that will ever happen to you; there is nothing like giving a parent their child back!
What is the scope of practice in my particular state, country, etc?
---
Dr. Monika Buerger has been in practice for 22 years and currently practices in Ammon, Idaho. She is a contributing author to the text book "Pediatric Chiropractic" Volumes I and II by Anrig/Plaugher with chapters on History & Physical Examination, Neurodevelopmental Disorders and Sensory Processing Disorders. She is a speaker for the International Chiropractic Pediatric Association (ICPA) as well as other organizations. She is also the founder of the Intersect4kids program; a certification program for doctors of chiropractic in "The Care and Management of Children with Neurodevelopmental Disorders." For more information, visit www.intersect4kids.com.

Other DCPI articles by category:
DC.com Articles:
Community: