Educate Patients
I began advising patients about sleep wellness issues, especially as they relate to proper spinal support; the value of deep, healing sleep; toxic ramifications from the off-gassing of toxic fumes given off by many mattress, pillow foams and fire retardants; and finally, which products I recommend and prescribe. The first step was to add sleep wellness questions to my new-patient forms (see below).
Next month: Learn how to establish a sleep wellness room in your clinic.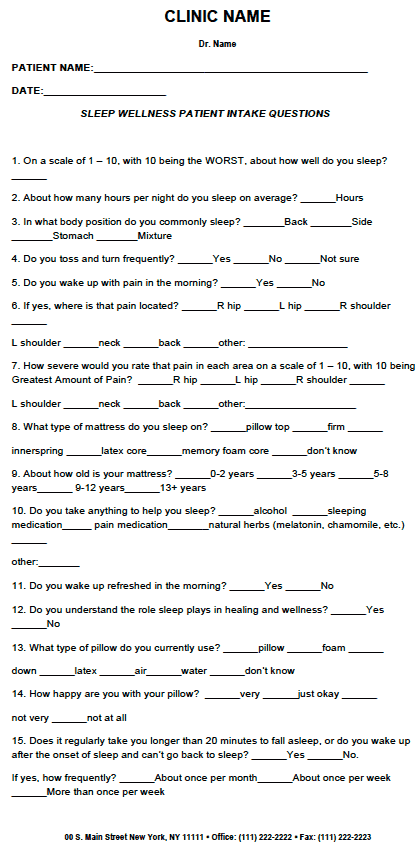 ---
Sleep Information Sources
A webinar I gave entitled: Sleep Wellness + DC, The New Frontier for Chiropractic www.dynamicchiropractic.com/webcasts/20120913/index.php
"Toxic Sleep" Dynamic Chiropractic January 2013, www.dynamicchiropractice.com.
For information on mattress technologies and materials go to www.intellibed.com.
Other valuable sources of sleep information are:
National Sleep Foundation
---
Dr. Kenna S. Ducey-Clark has emerged as a national leader in sleep wellness and runs Colorado's first-ever sleep-wellness clinic. She takes an integrated, whole-body approach to healthcare that incorporates sleep wellness and chiropractic, veering away for compartmentalizing symptoms and complaints, and finding a way to "connect the dots." Leading her peers in sleep wellness education, Dr. Clark has published articles and conducted educational webinars in the greater effort to help patients across the United States achieve optimum health.