The origin of the word prosperity stems from the Latin word prosperus, which means doing well. In today's times, some may think prosperous infers that one is wealthy. This would imply that the person who is wealthy has inherited or always has a large sum of money.
However, can wealth always be articulated as monetary? In other words, might prosperity denote someone is happy with their life, passionate about the work they do and loving to all?
In today's competitive landscape, many doctors of chiropractic seem to face obstacles when it comes to prosperity. Some obviously are not making the amounts of money they thought they would upon graduation. Others are simply unhappy about the work they do and those they treat. While others seem to just have an unfortunate, unhappy personal life which then affects their professional life. What then is the success formula? What is it that helps build momentum to be more prosperous in today's world?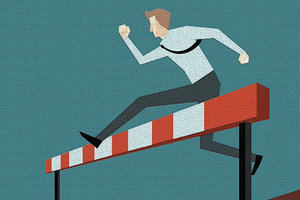 Success perhaps is based upon the amount of discretionary time and happiness a person has in life. This comes from doing work you love to do and enjoying the people around you. It also requires that you do work that is comfortable and allows your competence and passion to develop into some type of occupation.
The First Step
For any chiropractor, the first step to help build momentum is to review market demographics. Simply put, chiropractors need to treat patients they are passionate about treating. A quote often used in business is, "if it isn't going to make you happy, then it isn't worth doing." As a doctor, you must find those who you are interested in helping, as it will help to manifest your brand. The more people that understand the value you provide, the more attraction you will build. Therefore, it's imperative to offer treatment programs that interest you while also finding potential patients who are interested in those treatments. For example, why would you treat personal injury cases if you were a former track and field star and are enamored with runners? If you are not treating runners and this is your passion, why aren't you?
Once you have found your passion, you need to establish your brand and market area. Branding is establishing you and your statement of quality. Branding will help patients differentiate you from another chiropractor down the street. Moreover, branding is a method that not only builds your credibility, but also improves relationships with potential patients. In order to build your brand, you need to take a look at the patient's needs, add your personal and professional competency in meeting those needs and explode with your passion. When these three factors converge, this becomes your starting point. It is one thing for somebody to say, "go find me a chiropractor because I can't get up" or, "it hurts every time I pick up my children." This is trumped in comparison to somebody saying, "get me Dr. Specific Chiropractor." This difference provides a tremendous advantage to your practice.
Developing Leverage
The only way to build momentum and leverage your brand is to be active daily. This does not mean sitting at your desk waiting for the phone to ring. It means actively goaling and participating in events that will bring prospective patients into your office. For example, you might attend networking events, produce a seminar of some importance to the community such as wellness or nutrition, or write an article in a local paper. What you do matters. You must be active within the local community. People who know you will go to you and refer! Personal contact is not the only way to meet prospective patients. In today's market, you need to use technology to branch out; writing blogs, having a website and becoming active* within online communities of prospective patients.
The suggestion here is you must be absolutely and somewhat egotistically involved in self-promotion. If you do not promote yourself, no one else can or will. You must immerse yourself in extreme professionalloudness so others hear your value and recognize your brand. Once you create this attraction, you will see your waiting room full, phones ringing and new revenue in your account.
The Second Step
For most doctors, reality shock may be an understatement when first beginning their practice. After graduation, the warm, comfy and safe feeling of leaving college becomes a fleeting memory. You are now in the business of helping sick people get well and realize you are your own boss. Chiropractic colleges usually offer only one business related course during your final trimester. Although educated and prepared for the care of patients, your business acumen may be in need of additional training and guidance.
As a (new) business owner who practices chiropractic, the bottom line is to become profitable and quickly. Obtaining new patients and rendering care is important, however getting paid for your services is the difference between being profitable or not. The reality of fully grasping the complexities of practice necessitates the adoption of sound office policies and procedures. As an example, after services are rendered, accounts receivable (AR) may quickly grow. Although appearing as the office earning income, until received and deposited it is only a number which has no immediate monetary value. Collecting may take 90 days or more to actually receive payment and the possibility exists you may not receive the full value of the accounts receivable. Moreover, requests for additional information, denials, etc., can extend this waiting period. The importance for collecting patient deductibles, co-pays and fees for service and products when rendered is the life blood which allows a practice to remain viable and operating while waiting for AR money to be received and deposited.
Staff and Patient Interaction
Early in their careers, doctors should master the ability to efficiently and effectively process a new patient, explain the need for suggested care and detail the anticipated cost. A doctor may not have any difficulty with the first two but could with the last. However, even seasoned doctors may not have mastered basic practice principles of patient management which may be one reason for lack of patient compliance and practice profitability. The doctor should possess the ability to perform every task in the office before delegating it to a responsible staff member. Asking a patient to pay for services rendered may be the single most important task, however difficult. Lacking the ability to collect your fees will ultimately lead to practice failure, despite rendering superb quality care. Staff must be thoroughly trained in front desk and ancillary procedures, i.e., patients warmly greeted, collect appropriate fees, confirm insurance coverage, obtain appropriate HIPAA releases, request other doctor records, wish patients a good day upon leaving, etc. If ever feeling overwhelmed or in need of help, there are qualified and knowledgeable professionals who may be consulted to stop the same repetitive action steps yielding the same (poor) results. You cannot fix a problem until you discover the problem.
Yielding Results and Profitability
Office expenses are ongoing and it is your responsibility, as the doctor (owner) to be knowledgeable with office operating costs, i.e., rent, utilities, phone, salaries (including doctor), malpractice and office liability insurance, computers and office software, supplies, interest expense on loans, student loan repayment, office supplies, professional and office equipment, taxes, professional consulting, legal and accounting services, etc. Simultaneously, the doctor must be vigilant in keeping costs within budget and be aware of opportunities to cut costs.
Additionally, the doctor should be cognizant and open to increased revenue sources, i.e., massage, acupuncture, nutritional products, orthotics, TENS, cervical pillows, assorted braces, etc. Remember, it is YOUR responsibility to know what your state license permits you to do and not what a sales representative tells you! It is YOUR name on that state license and not theirs.
As momentum builds you will begin to be profitable and have fun because you will be helping patients and reap the benefit of increased revenue. Always be cognizant of possible law, reimbursement and ICDA code changes or the possibility of you no longer being able to practice. Therefore, the mantra should be to pay yourself first. Unfortunately, doctors many times miss this vital exercise of self preservation. It is important to earn, save, reinvest and pay expenses.
Stay tuned for additional articles on building momentum and avoiding practice pitfalls. You will learn more about practice opportunities and applications allowing you to achieve prosperity in a shorter amount of time. Moreover, correctly allocating received revenues ensures your continued financial success allowing you and the patient to benefit.
* Doctors should be knowledgeable of their state laws for professional practice and scope of practice parameters.
---
Drew Stevens, PhD, is known as "The Revenue Doctor." He helps chiropractors develop strategies that exponentially grow revenue and returns personal time. He is the author of eight books including the widely acclaimed "Practice Acceleration" by Greenbranch publishing. He can be reached through his website at www.stevensconsultinggroup.com.

H. William Wolfson, DC, FICC, MS, obtained his Masters of Science (MS) Personal Financial Planning from The College for Financial Planning and is a candidate for CFP® professional certification. Dr. Wolfson remains active and engaged in chiropractic by volunteering his time as NY Delegate to the American Chiropractic Association and serving on assorted committees. He is also a board member of the New York State Chiropractic Association. Dr. Wolfson participates on assorted committees with the Financial Planning Association LI chapter. Dr. Wolfson retired after twenty seven years of active practice and may be reached at .