With the Supreme Court's decision to uphold the Patient Protection and Affordable Care Act, adopting an Electronic Health Records (EHR) system is no longer an option—it's a requirement.
And while many chiropractors understand this, choosing a system can be a daunting task. After all, chiropractors didn't go through chiropractic school to become experts in software, let alone manage records, notes, insurance claims, billing, and perform other forms of administration.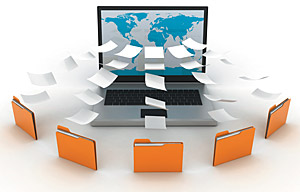 Ultimately, and regardless of the mandate for the healthcare industry to adopt an EHR system, incorporating automation into a practice is simply a smart choice for one very good reason: time. How you and your staff spend your time has a definite impact on practice profitability, the quality of patient care, and the overall efficiency of your office. With the right software empowering your practice, you can free up time to see more patients while improving the level of care those patients receive.
Tools of the Trade
The general purpose of any EHR system is to automate those tasks you're already performing. Electronic Health Records provided by automated software systems now combine documentation, billing, scheduling, reporting, and much more into one HIPAA-compliant system. Most of the automated systems are very simple to use and yet powerful enough to manage your entire practice.
Here are just some of the features you should expect when reviewing software automation systems:
Streamlining the Sign-in Process at the Front Desk -In order to streamline a patient's arrival, your software should allow your patients to check themselves in by fingerprint, pin number, bar code scan, or even via a mobile device such as an iPad. In addition to increasing check-in efficiency, the check-in is the first impression made on a patient, so automating the process can set the tone for the level of sophistication they can expect from the practice.
Patient Scheduling-A truly automated software system should incorporate scheduling features that allow the customization of several views so that your staff can easily keep track of a patient's schedule. They should be able to view past, present, and future appointments with a patient all at once. Also, administrative notes and insurance information for each patient should be immediately accessible.
Total Patient Flow Management-For most chiropractors, and in the interest of efficiency, the ability to manage the entire flow of the practice from a single screen can be highly valuable. Whether it be on a computer or mobile device, this gives you the opportunity to easily view the patient's purpose of visit, their provider, who has arrived, who has checked-in, checked-out, who owes you money, who is running late, etc.
Appointment Reminders-Missed appointments can have a serious effect on practice cash flow. Software automation can significantly mitigate this issue with automated appointment reminders that can be sent via e-mail or text.
Access to the Patient's Entire File-Software systems should provide you with the ability to see your chiropractic SOAP notes, procedure and diagnosis codes, treatment plan information and imaging with just a few brief clicks.
Patient Billing and Collection-One of the features that makes a software management system so attractive is its billing capabilities. Most chiropractic software systems have built-in electronic billing as well as standard paper billing. This feature can save your practice thousands of dollars every year in billing and collection costs. The process should be as easy as it is efficient, and one should search out a system that accommodates both singular and bulk payments. The system should also be able to print monthly statements or use an e-mail system to remind your patients that a bill is due. It should also, of course, send out delinquency notices so that your office can collect past-due payments.
Mobility-Until very recently, mobility wasn't necessarily a topic that would be addressed when considering EHR systems. But as it has with countless other industries, the iPad has provided chiropractic with the opportunity to manage many elements of the practice using an iPad. The ability to share x-rays, notes, and other patient data all from a mobile device can have a direct impact on patient care, communication, and practice efficiency. Mobility empowers you to perform the adjustment, take notes, communicate with your patient, schedule the next appointment, and be on to the next patient—all from the palm of your hand.